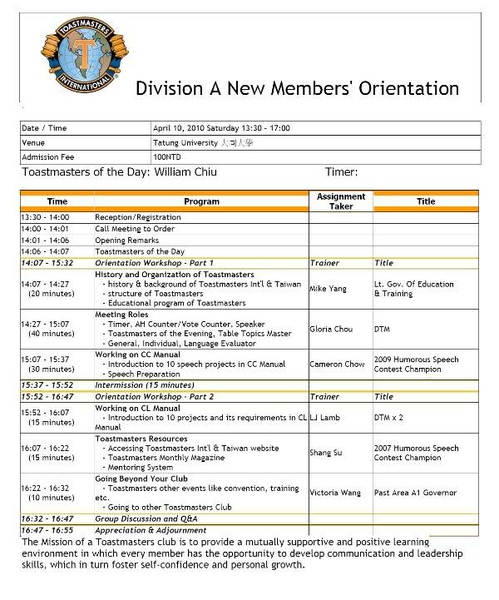 Fellow Toastmasters Members,
I'm sure a lot of clubs have recruited new members by now, and our new members would like to know more about this organization and how it would benefit them in the long run. Division A is going to hold a New Member Orientation on April 10, Saturday afternoon at Tatung University. Following Toastmasters' spirit of sharing, we welcome members from other Divisions to join us as well. We have a strong team of trainers who are eager to share their knowledge and enthusiasm with new members. With their vigorous and lively educational presentation, new members will find that Toastmasters is really fun to stay at.
As our District Governor James Lin set it, "Dig More, Reap More!" Let our new members know how can they reap out of Toastmasters!
For the members who are interested in this training, please kindly register to Wini Kao chuiweio@hotmail.com
Amanda Uy, ACB, CL
2009-2010 Area A2 Governor