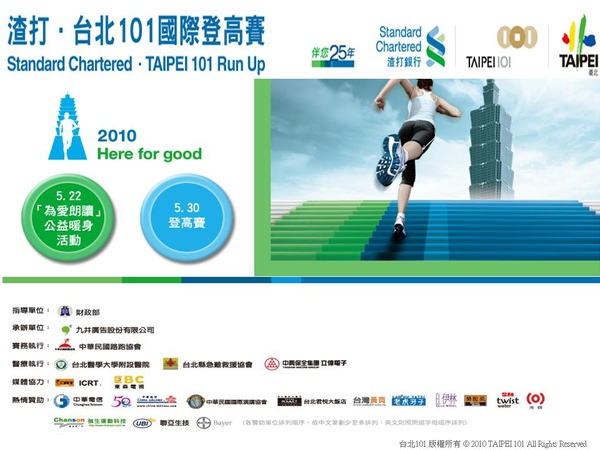 Dear Leaders and Fellow Members:
各位親愛的領導者與會員們:
The annual "Taipei 101 Run Up" will be held on May 30 ( Sun.) morning! In order to serve the public, we Toastmasters
are fortunate to be one of the co-sponsors this year! You could refer to the attached poster, showing our TM logo and the
following announcement!
一年一度的台北101國際登高賽將於五月三十日(星期日)上午舉行,今年我們國際演講協會為了參與社會,服務人群,
有幸是協辦單位之一!宣傳海報上已將我們TM的標誌放在宣傳海報上(如附件),也請參考以下的宣佈事項!
We will recruit around 30-40 Toastmaster volunteers to cheer up the runners and provide them with water on the floor!
Breakfast & lunch will be provided by the host units, and you might have a souvenir! In addition, in the end, you could also
go or climb to the top of Taipei 101, but most importantly, you could help introduce and promote Toastmasters!
Such a wonderful opportunity, would you like to join it?!
Please make your registration by 5/14 to Victoria Wang who will be our in-coming District PR at victoria.wang@mail.com!
with the following information.
l FULL CHINESE NAME:
l FULL ENGLISH NAME:
l MOTHER CLUB:
l MOBILE NUMBER:
l EMAIL:
As the number for the registration of this volunteers is quite limited, please make it soon!

我們將招募約30-40名義工,在各樓層給選手加油並供水!義工們將會有早午餐供應,並可能也有紀念品,且在最後
也可與選手們一樣登至101頂樓!但最重要的是可幫Toastmasters打知名度!這樣的好康,你要參加嗎?
請向即將接任總會公關的王維君小姐 victoria.wang@mail.com 於五月十四日前報名!由於名額有限,請儘早登記!
報名資料包括:
中文全名:
英文全名:
分會名稱:
手機號碼:
電子郵址:
Dig More, Reap More! 深耕必得!
Yours,
Mike Yang DTM
LGET 09-10
District Governor-elect 2010-11
教育訓練副總會長楊冀光敬啟